Some beneficiaries of the Youth in Afforestation Program say they will show appreciation to government's initiative by voting for the New Patriotic Party (NPP).
Leader of the group, Emmanuel Osei Aborah said despite agitations over delayed payment of allowances, they are grateful to President Akufo-Addo for the job opportunity.
"Let's have hope in the NPP government that when they are voted once again most of the youth will be engaged", he said.
The Youth in Afforestation Program, rolled out three years ago, created opportunities for all categories of persons; from university graduates to basic school leavers to be engaged in planting trees across the country.
Delay in payment of allowances and reduction in agreed remuneration caused members to embark on series of demonstration in the period.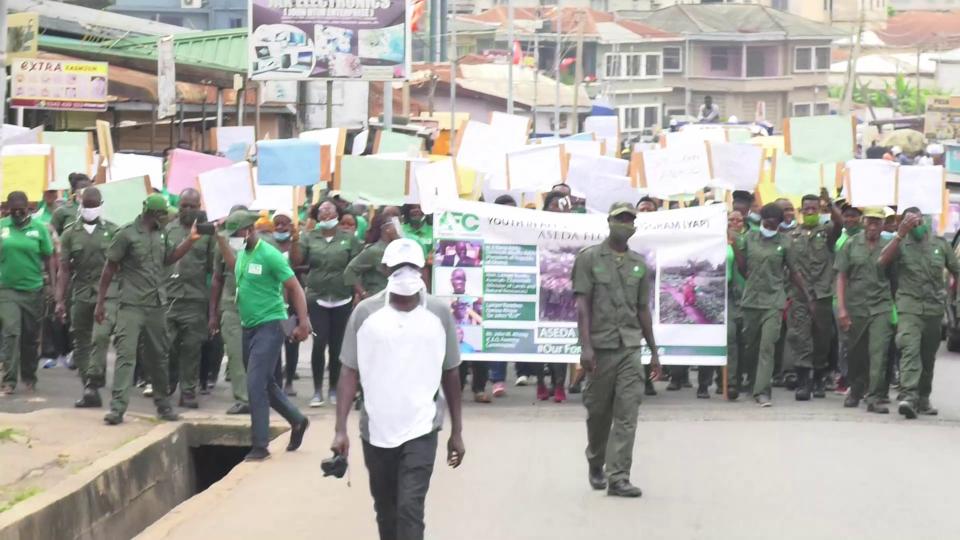 The beneficiaries, however, say prompt response to their calls and agitation is commendable.
"When the allowances were cut they employed others to join us. It was just fair that the amount promised was cut to expand the beneficiaries", Mr Aborah added.
He spoke to Luv News on the sidelines of a march in appreciation of government's introduction of the the afforestation program.
Placards displayed by the group did not only thank the President and leaders of the Forestry Commission but endorsed the bid for Nana Akufo-Addo's re-election.
Over 10,000 youth employed in forest districts and 1500 in the Kumasi metropolis have planted over 5000 hectares in forests and cities.
Ashanti Regional Manager of Forestry Commission, Augustine Gyedu wants the program maintained by successive governments.
"As we talk there are some of them carrying out protective work in our forest reserves. If the program is cut off they are gone. So we need them," he said.
Meanwhile, Chief Executive of Kumasi Metropolitan Assembly, Osei Assibey Antwi says government deserves another term to deal with unemployment in the country.