What Controversial and Self acclaimed Evangelist, Evangelist Addai Emmanuel is saying after the sudden death of Ghana's first president of the fourth Republic and founder of The National Democratic Congress(NDC), His Excellency Flt Lt. Jerry John Rawlings is really irritating. He has said that, the energetic youth who are dying on the Mediterranean Sea and Libya due to their own selfishness are far better than Rawlings.
According to the self acclaimed Evangelist in a Facebook post sighted, he stated that, those strong and energetic youths dying on the sea and Libya should be given hope in a better life of our generation because they are far better than late Jerry John Rawlings.
This comes after Ghanaians couldn't control their tears hearing the sudden death of the founder of the NDC which was announced on the 12th Of November 2020.
After the sudden death of Rawlings, the self acclaimed Evangelist have been ranting on social media over how Ghanaians are reacting to His death. According to him, Rawlings have taken lives of many citizen during his regime so don't see why Ghanaians should be heartbroken over his death.
Making that irritating comment he wrote
 "THE ENERGETIC YOUTH DYING ON MEDITERRANEAN SEA and LIBYA ARE FAR BETTER THAN RAWLINGS😢 LET'S GIVE THEM HOPE IN BETTER LIFE OF OUR GENERATIONS👋 IS VERY 😢"
It could be recalled that, this same, Evangelist Addai came out to say, former President Rawlings is not death as news has it but just causing financial Lost to the state since he will be given a state burial.
He wrote;
"HOSTING A FUNERAL FOR JJ RAWLINGS WHOMIS TRUELY NOT DEAD😂 IS CAUSING FINANCIAL LOST TO THE STATE😂
JUST STOP THIS DRAMA"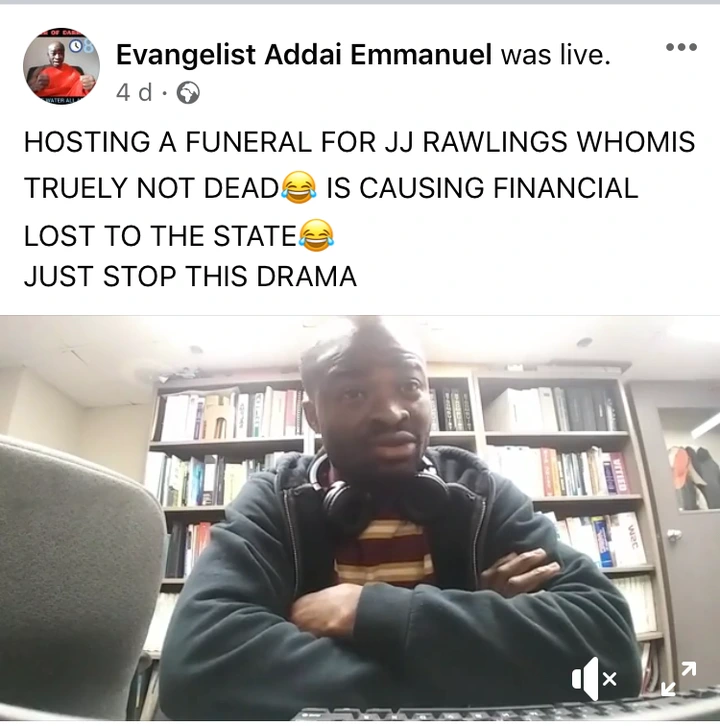 Ghana's first president of the fourth Republic and the Founder and Leader of the National Democratic Congress (NDC) Flight Lieutenant Jerry John Rawlings died on the 12th of November, 2020 after suffering from a severe but short illness.
He was said to have died at the Korle Bu Teaching Hospital after he was unable to respond to treatment leading to his glorious demise.

Source
Adwoa Adubia News