In February 2020, myjoyonline.com brought you the story of an assembly member who was dedicating his life to resolving crisis many residents living in Asafo, a town in Kumasi suffered in silence.
A video journalist, Ernest Okai and his devoted friends desilted choked gutters at that time to bring great relief to residents.
Poor hygiene conditions was a real problem for the people and many complaints didn't produce any positive results.
The assembly member had to use whatever was available, albeit insignificant, to make a difference. 
But today, Mr. Okai has finally made one of his biggest dreams come true eight months after emptying garbage in choked gutters.
Ernest Okai seems to know first-hand, how anxious it is, not to have an adequate sanitation system. And now that he has won an election to the assembly, he is devoting his life to a crisis that many residents have lived through in silence. 
Choked gutters are not just complications; they cause numerous problems that adversely affect people's lives. Mr. Okai leverages his ability to gather people and exalt them to embark on communal labour in his electoral area.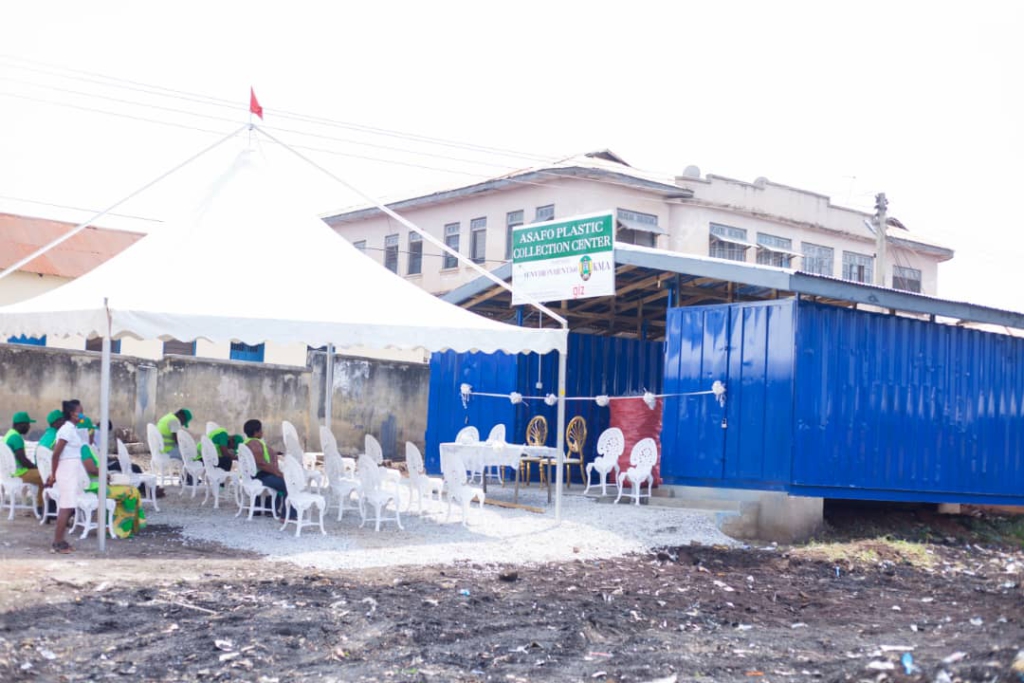 Both young and old come out to embark on what he has been championing in the last decade. 
Myjoyonline.com reported how Mr. Okai reached out to the choked gutters to pick up trash and dirt while his supporting team did the same at different locations to keep Asafo clean.
At the time, there were few hand gloves & Wellington boots availability but they were simply mad at emptying filth in the area.  That's what Okai campaigned for in an election that was tainted by allegations and a number of criticisms from his main contender.
He avers, "I never looked on. I did everything I could with pure hearts and good intentions."
In 2015, Okai lost the election in his bid to lead the people.
But today, Ernest Okai has made one of his dreams come true – the setting up of a plastic collection centre in the electoral area.
The 10-ton capacity plastic collection facility should take care of plastic waste in the area.
2-ton-per day target is also expected to be met.
This means that the facility will reach its capacity in a five-day period. 
By December 2020, the facility might have collected at least 122 tons, which is at least 12 times the amount transported by a standard dump truck. 
Ernest is looking for the best of both worlds – clean environment with job creation. 
Nana Kwabena Asante is the project manager of environment 360.
Collection and management of waste is an essential public service for all communities required to protect public health and the environment. 
Under current global policy frameworks, waste management services occupy prominent place in the goals and indicators of both SDG 11 and SDG 12, including commitments on prevention, reduction, recycling, reuse and adequate collection and disposal by 2030.
The facility financed by GIZ through the german federal state of North Rhine Westphalia, is one of several toward achieving universal access to sustainable waste management systems in the Kumasi metropolitan assembly. 
"In coordination with KMA and financed by GIZ through the German Federal State of North Rhine Westphalia, we are creating two Collection centres in the city of Kumasi of which Asafo collection centre has been fully constructed and being launched today." Project Manager of environment 360, Nana Kwabena Asante.
He says the collection point is to support the efforts of the network of informal collectors to boost their economic activities through the collection of PETs. 
"E360 will also create incentive systems that gives ISPWC access to small loans to support their business as well as a varieties of other social benefit including health care, child care and education."
Environment 360 (E360) encourages the community to take advantage of the centre which would reduce plastic litter in the community, whiles also improving the lives of the collectors.